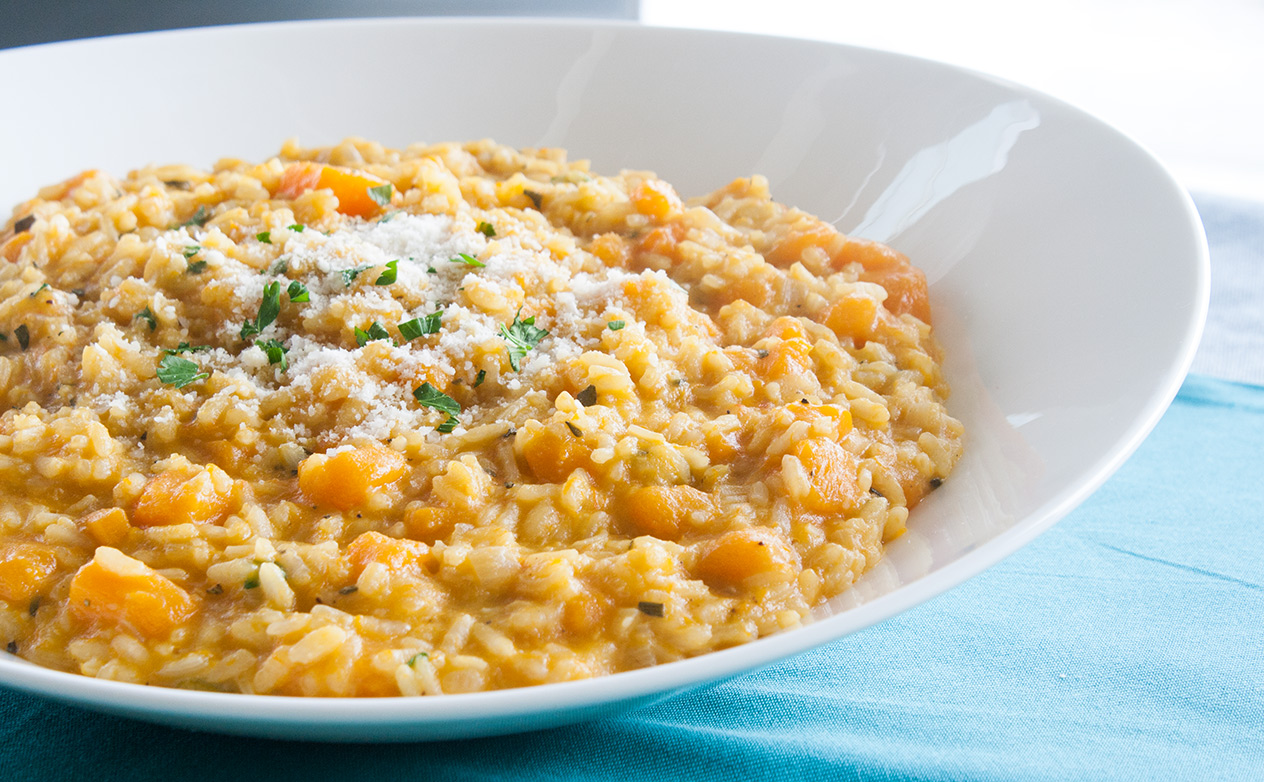 Don't let risotto intimidate you! With a little bit of time and patience you can enjoy this delicious dish. The creamy risotto is combined with sweet butternut squash, fragrant sage and rosemary for a perfect dish to usher in the cool days of fall.
6 Servings
40 Minutes
Print
Ingredients:
3 cups butternut squash, cut into 1/2 inch cubes
3 tablespoons butter, divided
1 tablespoon olive oil
3 shallots, minced (about 1/2 cup)
1-1/2 cups Arborio rice
1/2 cup dry white wine
7-1/2 cups chicken stock, heated
5-6 fresh sage leaves, chopped
1 sprig fresh rosemary, chopped
1/4 cup and 2 tablespoons grated Parmesan cheese
Salt and ground black pepper to taste
Method:
Heat olive oil and 2 tablespoons of the butter in a large sauti pan. Add squash. Sauti for about 5 minutes, then cover; cook on medium heat until almost tender, stirring often, about 10 minutes. Add shallots; cook and stir for 5 minutes until the shallots begin to soften, then stir in the rice. Continue cooking until the rice is glossy and begins to turn translucent on the edges, about 5 minutes. Mix in sage and rosemary. Cook for an additional minute.
Pour in the white wine; cook, stir until it is absorbed. Add a large ladleful of the hot chicken stock (about 1/2 cup) reduce heat to medium. Cook until most of the liquid has been absorbed by the rice, stirring occasionally. Continue adding the chicken stock to the rice 1/2 a cup at a time until the rice is creamy but is still slightly firm when tasted, approximately 25-30 minutes.
Finish by stirring in the Parmesan cheese, remaining tablespoon of butter, and seasoning to taste with salt and pepper.
Chef's Notes:
You can cut up your own squash or use pre-cubed butternut squash from your favorite grocery store. Just make sure the squash is cut into 1/2" cubes so it gets tender enough in the risotto.