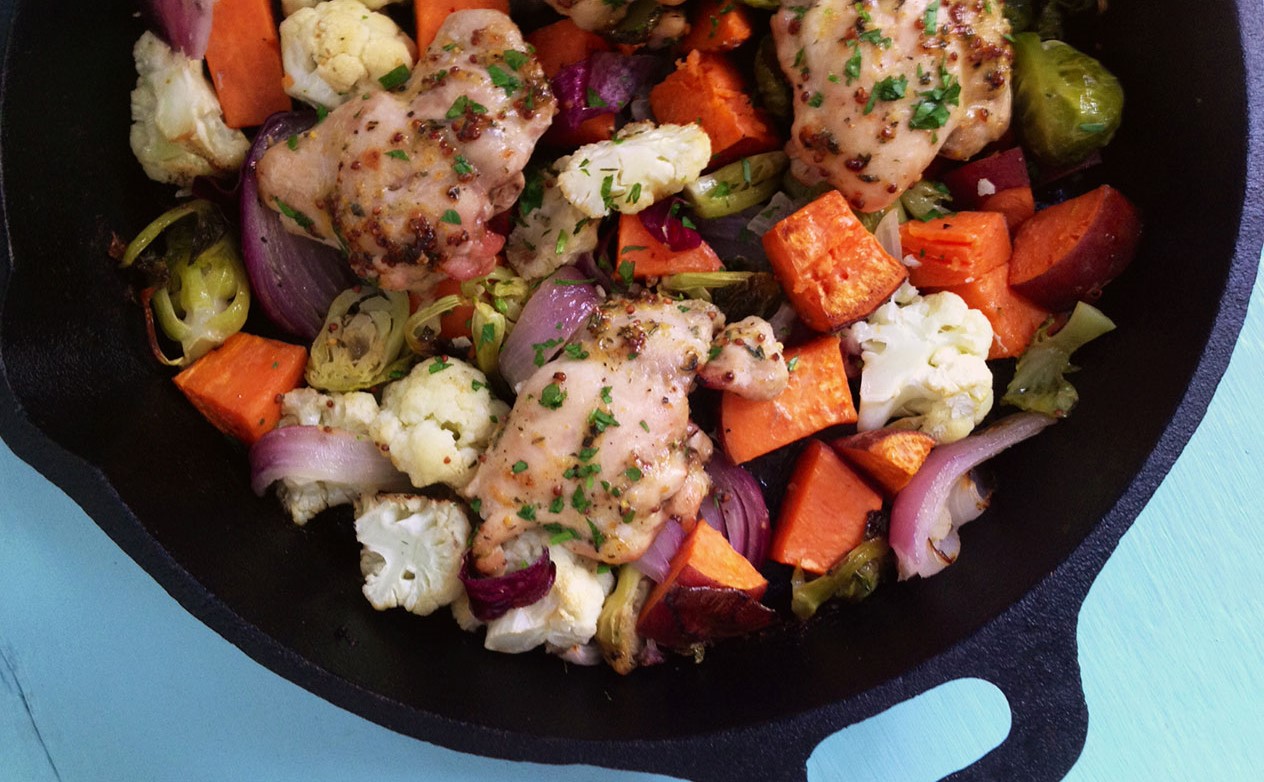 Enjoy the flavors of fall in this simple one-dish dinner. The hearty vegetables act as a roasting rack for the chicken and are seasoned with its delicious juices.
4 Servings
Print
Ingredients:
2 tablespoons olive oil, divided
2 teaspoons maple syrup
2 tablespoons whole grain mustard
1 tablespoon chopped fresh thyme, or 1 teaspoon dried
1 teaspoon salt, divided
1/4 teaspoon ground pepper
1 large sweet potato, cut into 1 inch pieces
8 ounces Brussels sprouts, trimmed and outer leaves removed
1 small head cauliflower, chopped into florets
1 medium red onion, cut into eighths
4 4-ounce boneless, skinless chicken thighs
1 tablespoon chopped fresh chopped parsley, optional
Method:
Preheat oven to 4500F.
Toss vegetables with 1 tablespoon olive oil and 1/2 teaspoon salt. Spread out evenly in a large cast iron skillet or 9 X 13" baking dish.
Mix together remaining olive oil, 1/2 teaspoon salt, maple syrup, mustard, thyme and black pepper in a small bowl. Brush or rub over chicken.
Lay chicken on top of vegetables and place in the oven.
Bake for 40-45 minutes, or until vegetables are tender and the chicken reaches 165 degrees F.
Let dish rest for 10 minutes. Sprinkle with chopped parsley, if using, and serve!