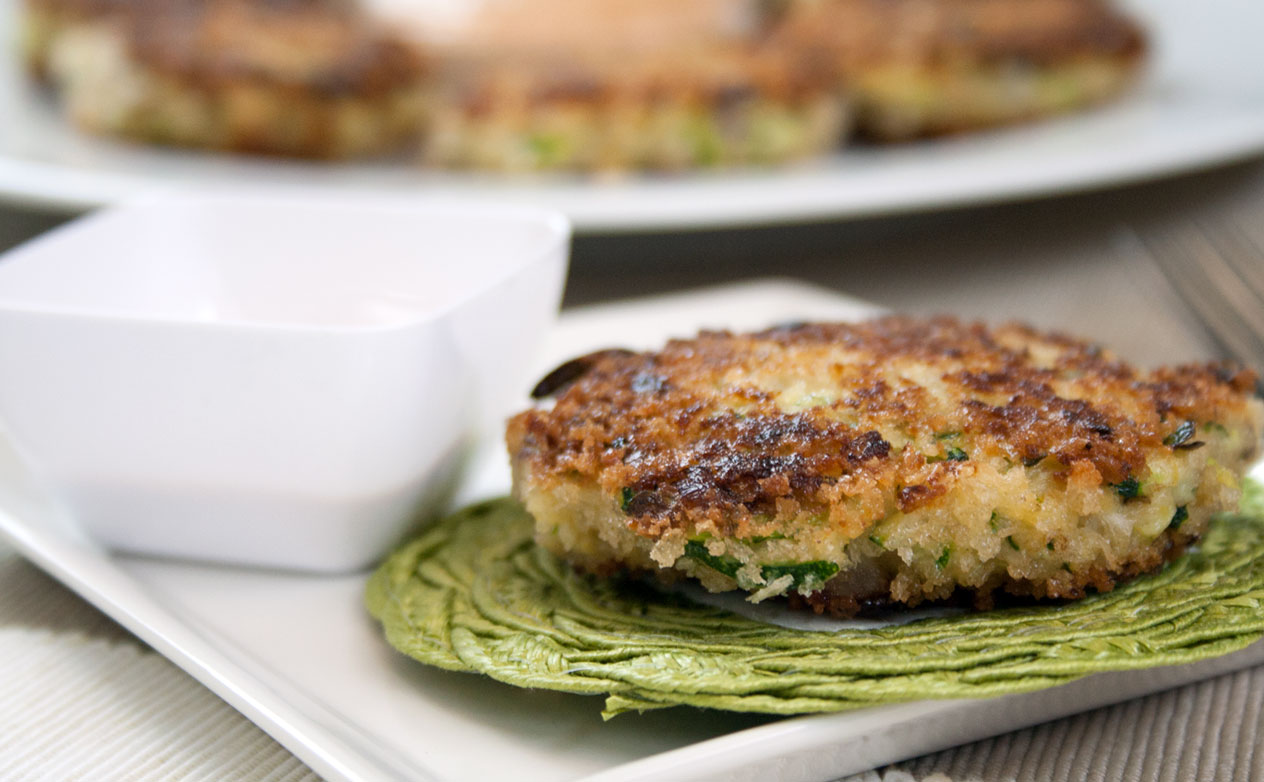 When zucchini is bountiful, try making these savory fritters. They are great as an appetizer or a side dish.
12-15 fritters
10 Minutes
Print
Ingredients:
2-3 medium zucchini, shredded with the water squeezed out
1 medium shallot, minced
1 clove garlic, minced
1/4 cup parmesan cheese, grated
1 cup panko bread crumbs, divided
Zest of 1 lemon
1/4 teaspoon red pepper flakes
1/4 teaspoon pepper
1/2 teaspoon salt
1 egg, beaten
Olive oil
Spicy Aioli:
1/2 cup mayonnaise
Juice of 1/2 a lemon
1/4 teaspoon salt
1/2 teaspoon paprika
1/4 teaspoon pepper
1/2 teaspoon garlic powder
Method:
Shred the zucchini using the large holes on a box grater or with the shredding disc on your food processor. Put the shredded zucchini in a clean kitchen towel and squeeze out as much water as possible. The more water you can remove from the zucchini, the better. Combine zucchini shreds with the shallots, garlic and parmesan, 1/4 cup of panko, lemon zest, red pepper flakes, pepper, salt and egg. Mix thoroughly.
Form the mixture into small patties using about two tablespoons of zucchini mixture for each patty. Coat the patties in reserved panko. Set on a parchment or wax paper-lined baking sheet and refrigerate for 20 minutes.
Heat 1/4 cup of olive oil in a skillet. Fry the zucchini patties in batches, 3-4 minutes per side until golden brown. Drain on paper towels. Serve with Spicy Aioli.
Spicy Aioli: Combine mayonnaise, lemon juice, salt, paprika, pepper and garlic powder in a small bowl. Stir to combine.
Chef's Notes:
You can freeze extra zucchini fritters for later or bake them in the oven for a lighter option.