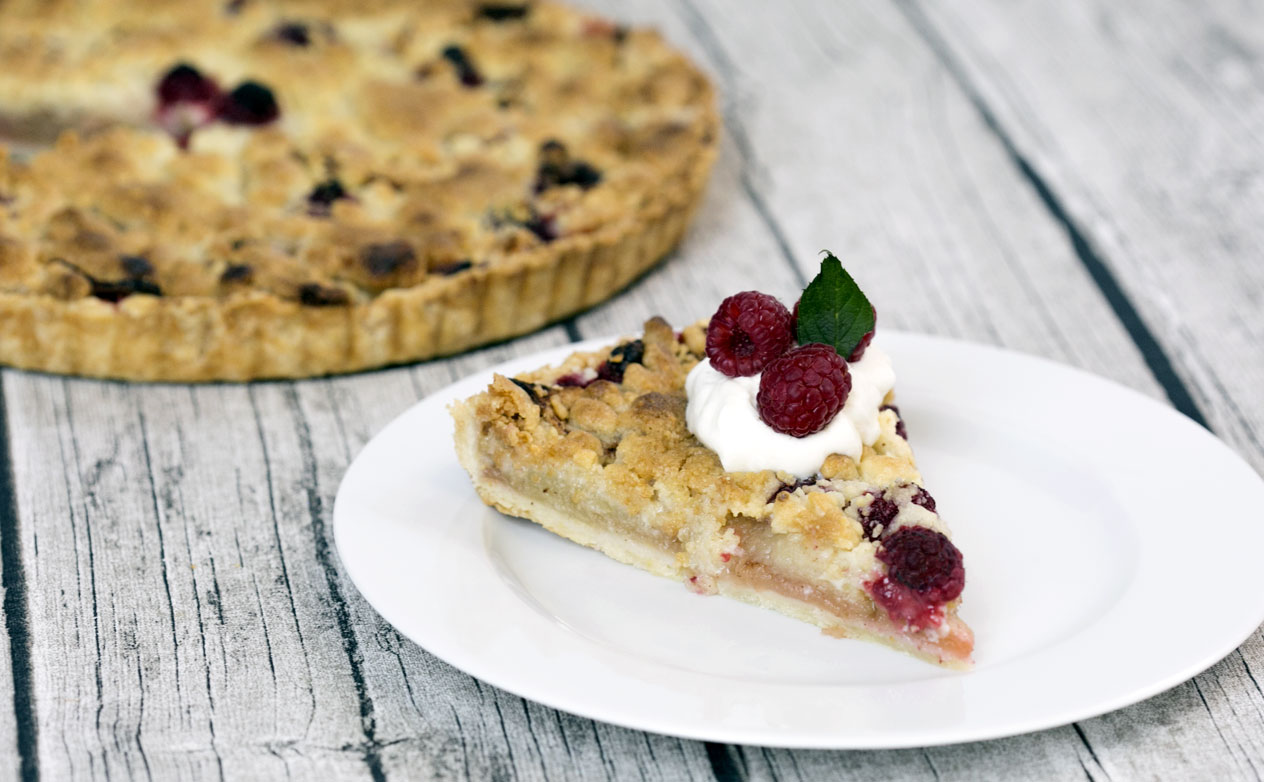 This tart is beautiful and delicious. Granny Smith apples are combined with raspberries for an added burst of sweetness and color in the tart. The almond crumb topping adds a satisfying crunch to the dish.
40 Minutes
Print
Ingredients:
1 pie crust
3-4 Granny Smith apples, peeled and sliced thinly
2 teaspoons lemon zest
2 tablespoons lemon juice
1 cup raspberries
1/2 cup sugar
1/4 cup flour
1/2 teaspoon cinnamon
Almond Crumb Topping:
1/2 cup slivered almonds, toasted
1/2 cup (1 stick) cold butter, cut into small pieces
1/2 cup sugar
1/2 cup flour
Method:
Preheat the oven to 450 degrees F.
Roll out your pie dough into a 13-inch circle that will fit in a 9-inch tart pan with a removable bottom. Carefully place your dough in the tart pan. Trim excess dough, leaving a 1/2-inch overhang, then fold overhang inward and press against side of pan to reinforce edge. Place the tart pan in the freezer while you prepare the filling and crumb topping.
Using a food processor, pulse the toasted almonds until they are finely ground. Add the butter, sugar and flour. Pulse 5-6 times until the mixture is combined. It should be crumbly. Set aside.
In a large bowl combine the peeled, sliced apples, lemon zest and juice. Toss to combine. Sprinkle with flour, sugar and cinnamon.
Assemble the tart by layering the apples in a circle into the tart shell. There will be 2 layers of apples. Top with the raspberries. Cover the tart evenly with the almond crumb topping. If desired, place 3 raspberries in the center of the tart for decoration.
Place on a rimmed baking sheet and slide into the oven. Cook for 40 minutes, rotating the tart halfway through the cooking time.
Allow to cool on a wire rack for 1 hour before serving. Serve warm or at room temperature.
Chef's Notes:
A tart pan with removable bottom makes this dish easier to cut and serve, but any round tart pan will work. Use your favorite refrigerated pie crust or try our recipe for Myrtle's Never-Fail Pie Dough.