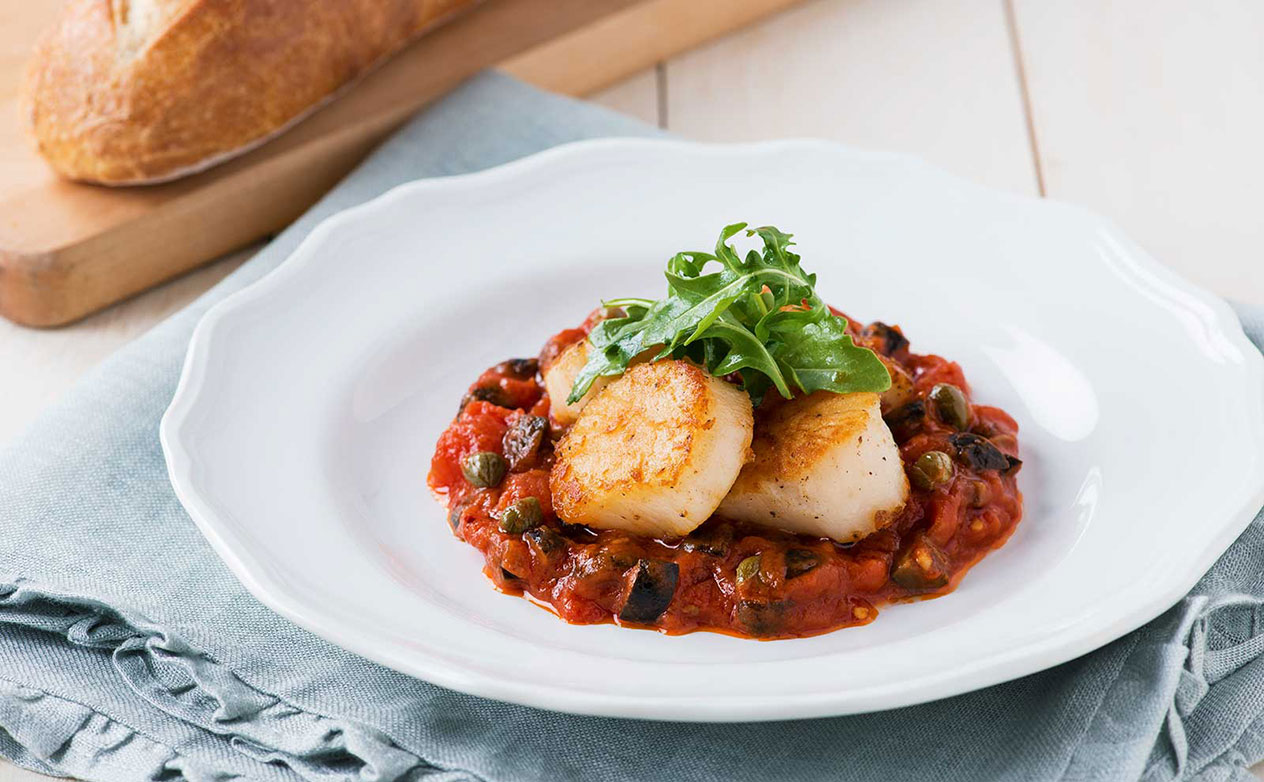 With olives, capers and anchovies, this zesty Italian tomato sauce is a perfect match for buttery rich scallops.
4 Servings
15 Minutes
Print
Ingredients:
Puttanesca Sauce:
3 tablespoons olive oil
4 anchovy fillets, chopped
2 cloves garlic, minced
1/4 teaspoon hot pepper flakes
3/4 cup pitted black olives, roughly chopped
2 tablespoons capers
1 can (14 ounce) diced tomatoes
6 basil leaves, torn
Seared Scallops:
16 sea scallops (about 1 lb)
1/2 teaspoon each salt and freshly ground black pepper
2 tablespoons canola oil
1 tablespoon unsalted butter
1 cup baby arugula
1 teaspoon olive oil
1 teaspoon lemon juice
Method:
Puttanesca Sauce: Heat olive oil in a skillet set over medium heat. Add anchovies, garlic and hot pepper flakes; cook for 1 minute or until garlic is soft. Stir in olives and capers. Cook, stirring occasionally, for 1 to 2 minutes or until fragrant.
Add tomatoes; simmer for 10 to 12 minutes or until sauce thickens slightly. Stir in basil.
Seared Scallops: Meanwhile remove and discard the small side muscle from the scallop. Pat dry with paper towel. Season with salt and pepper.
Heat oil and butter in a large, heavy-bottom skillet set over medium-high heat until almost smoking. Add the scallops to the pan without crowding. Cook, without disturbing, for 2 minutes or until a golden crust forms. Carefully loosen from skillet and turn over. Cook for 1 minute or until golden brown on both sides, but not over cooked.
Divide Puttanesca Sauce among 4 plates. Arrange 4 scallops on each plate. Toss arugula with oil and lemon juice; garnish each serving.
Chef's Notes:
For a heartier meal, serve this entree with crusty bread or toss sauce with pasta and top with the scallops. Substitute 2 teaspoons anchovy paste for the fillets, if preferred.