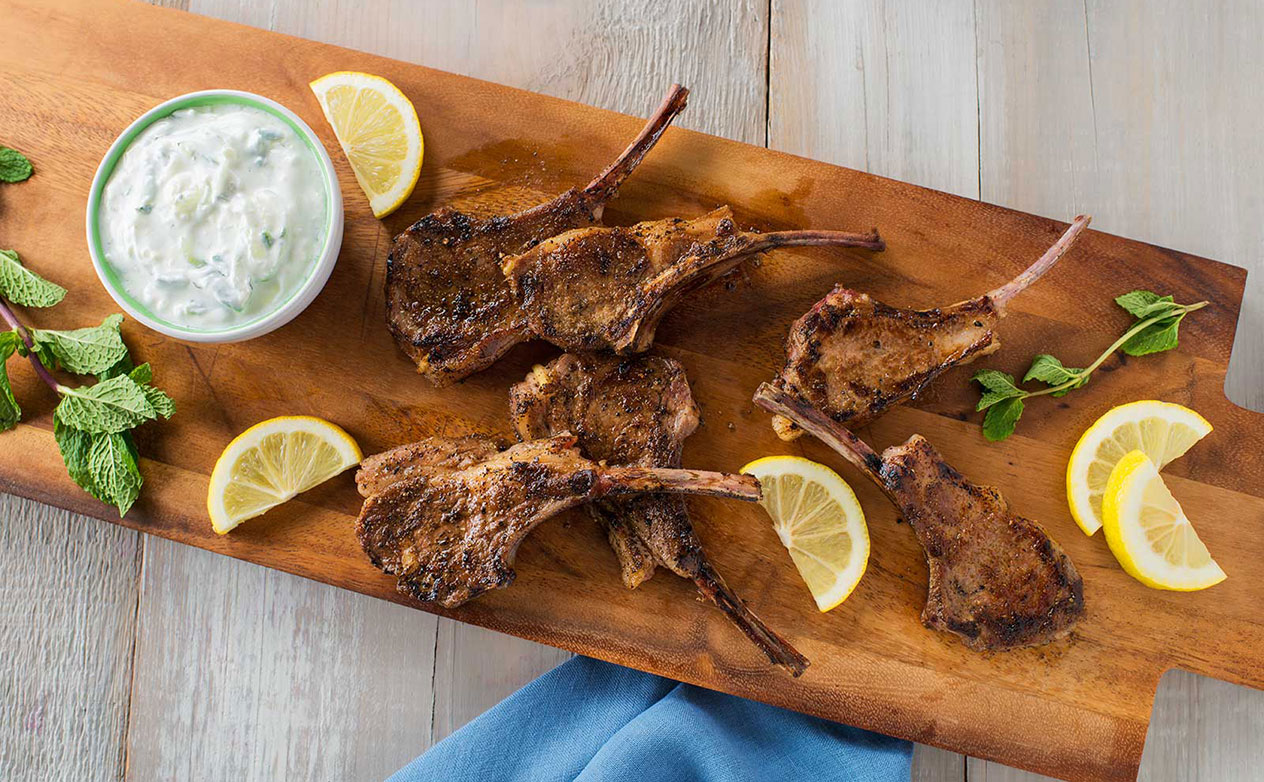 Lamb and mint are a classic combination that never go out of style and the yogurt sauce is perfect for cutting the richness of the lamb
6 Servings
15 Minutes
Print
Ingredients:
Feta-Mint Sauce:
1/2 cup shredded cucumber
1 cup plain fat free Greek yogurt
1/3 cup finely crumbled feta cheese
1/4 cup chopped fresh mint
1 clove garlic, minced
1/4 teaspoon each salt and freshly ground black pepper
Lamb Lollipops:
12 lamb chops, 3/4-inch thick
1 teaspoon freshly cracked black pepper
1 teaspoon ground cumin
1 teaspoon ground coriander
1/2 teaspoon salt
1/4 teaspoon garlic powder
1/4 teaspoon onion powder
3 tablespoons canola oil
Lemon wedges
Mint sprigs
Method:
Feta-Mint Sauce: Drain and squeeze shredded cucumber to remove excess liquid. Mix with yogurt, feta, mint, garlic, salt and pepper. Cover and keep chilled.
Lamb Lollipops: Pat lamb chops dry with paper towel. Stir pepper with cumin, coriander, salt, garlic and onion powder until blended. Season chops all over with spice mixture.
Heat half the oil in a large heavy-bottomed skillet set over medium-high heat. Sear lamb chops, in batches, for 3 to 5 minutes per side for medium-rare or cook to preferred level of doneness. Transfer to a plate; keep warm. Repeat with remaining oil and chops.
Arrange lamb chops on platter. Serve with Feta-Mint Sauce. Garnish with lemon wedges and mint sprigs.
Chef's Notes:
These lamb chops are also great for quick weeknight dinners. Serve 2 to 3 chops per serving. For easier preparation, use the largest holes on a box grater to shred the cucumber.