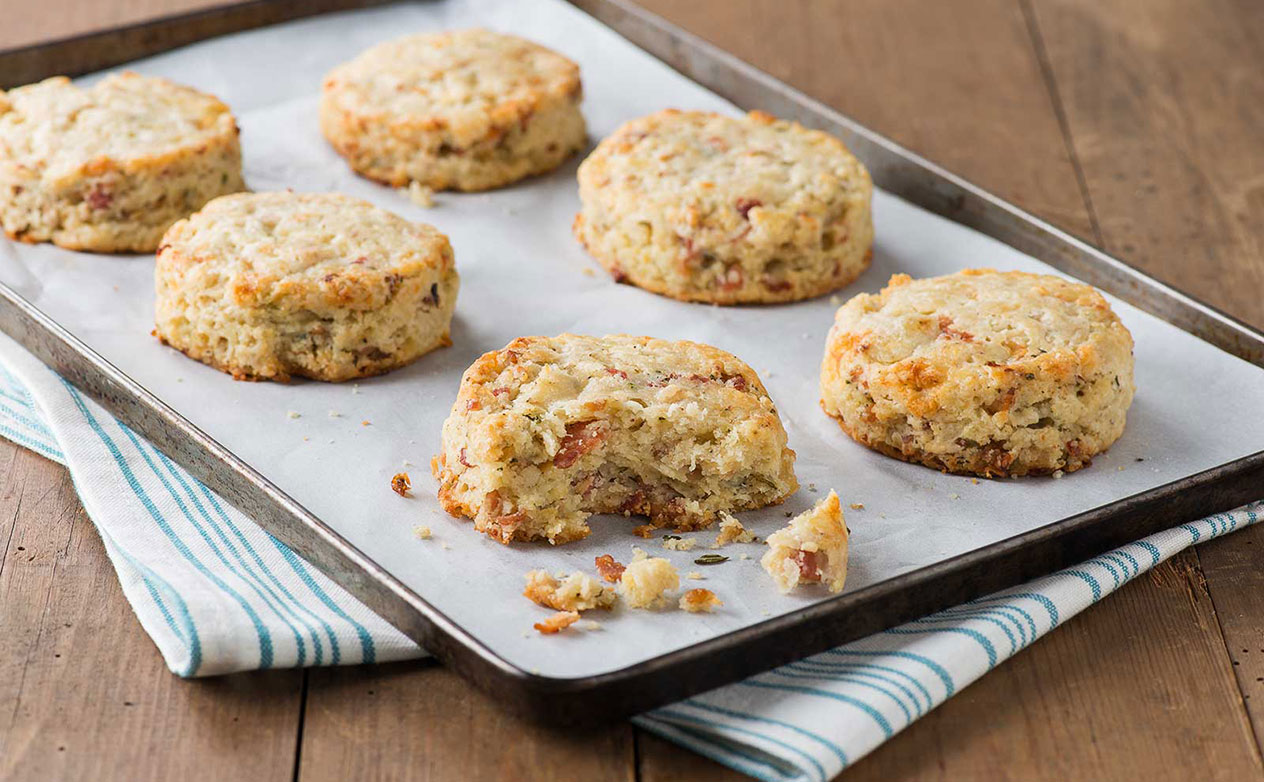 Scones should be served the same day they're baked but can be frozen for up to 1 month.
8 Servings
15 Minutes
Print
Ingredients:
6 slices bacon, chopped
1 small onion, finely chopped
2 teaspoons finely chopped fresh rosemary
2 1/2 cups all-purpose flour
1 tablespoon baking powder
1/2 teaspoon baking soda
1/2 teaspoon salt
1/4 teaspoon freshly cracked black pepper
1/2 cup cold unsalted butter, cut into cubes
3/4 cup buttermilk plus additional for brushing
1/2 cup crumbled Stilton cheese
Method:
Set skillet over medium heat. Cook bacon for 3 to 5 minutes or until lightly browned. Add onion and rosemary. Cook, stirring, for 5 to 7 minutes or until onions are soft. Cool completely.
Preheat oven to 400 degrees F. Line a baking sheet with parchment paper.
Place flour, baking powder, baking soda, salt and pepper in a food processor. Pulse until combined. Add butter; pulse until mixture resembles coarse crumbs. Add buttermilk; pulse just until combined (do not over mix.) Add bacon mixture and cheese; pulse 3 to 4 times.
Transfer to a lightly floured surface. Without overworking, gently knead until dough comes together. Pat into a 1-inch thick rectangle. Using a 3-inch round biscuit cutter cut 6 rounds; reroll scraps to make 2 more biscuits.
Arrange scones on the prepared baking sheet. Brush tops lightly with additional buttermilk. Bake for 15 to 20 minutes or until golden. Serve warm or room temperature.
Chef's Notes:
Serve these savory scones with brunch, use them for a deluxe breakfast sandwich, or give them as a hostess gift during the holidays.