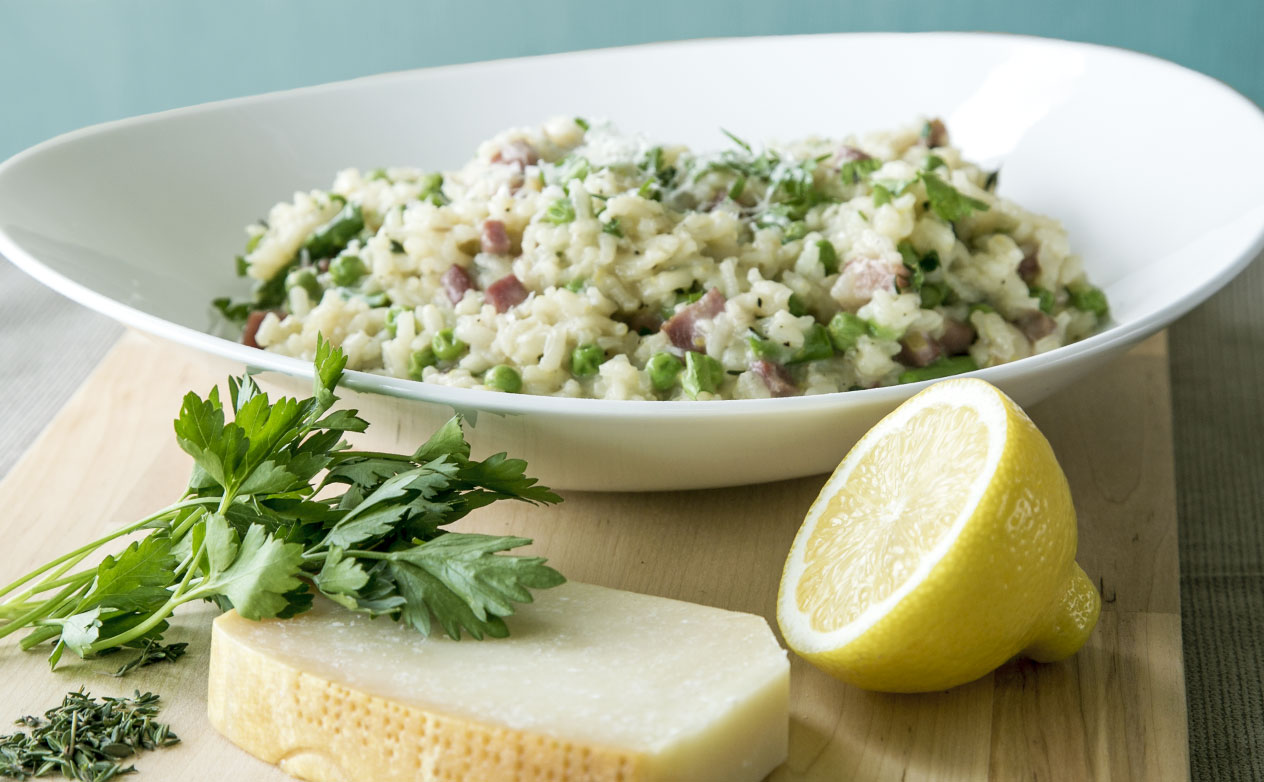 This risotto is a celebration of spring. Bursting with bright lemon and thyme with crunchy asparagus and tender peas, it's the best parts of spring in a bowl.
4-6 Servings
40 Minutes
Print
Ingredients:
5 cups chicken broth
6 tablespoons butter, divided
2 medium shallots, finely chopped
1 garlic clove, minced
1 1/2 cups arborio rice
1/2 cup dry white wine
1/2 cup prosciutto, diced (from one thick deli slice of prosciutto)
1/2 pound asparagus
1 tablespoon olive oil
1/3 cup fresh peas
2 tablespoons flat-leaf parsley, finely chopped
1 tablespoon finely grated lemon zest
2 tablespoons freshly squeezed lemon juice
1/2 teaspoon kosher salt
1/2 teaspoon fresh ground pepper
1 cup Parmigiano-Reggiano cheese, finely grated
Method:
Measure, chop, and gather all of the ingredients going into your risotto. On your cooktop, warm the chicken broth in a small pan over low heat until just simmering. It should be warm before you start cooking your risotto.
Break the woody ends off your asparagus and chop in to 2 inch pieces. Bring a large pot of salted water to boil. Cook your asparagus for 2 minutes until bright green. Drain and immediately plunge into a bowl of ice water to stop the cooking. Drain the asparagus and set aside.
In a large pan over medium heat melt 2 tablespoons of butter and 1 tablespoon of olive oil. Add the shallots and cook until translucent, about 5 minutes. Add the garlic and cook one minute.
Pour in the rice and stir until it is coated with the butter. If the pan looks dry you can add more butter or oil. Cook the rice until the edges become slightly translucent but the center is still opaque. Approximately 5 minutes. Add the prosciutto.
Add the wine, and simmer until it has evaporated and the pan is almost dry.
Begin adding the warm broth one cup at a time. Wait until the broth has been almost completely absorbed by the rice before adding another cup. Gradually adding the liquid is key to getting the rice to release its starch and make a creamy risotto. Don't rush the process.
After about 12 minutes taste the rice, you want it to al dente (tender but with a bit of bite); it could take as long as 30 minutes total to reach this stage.
The risotto is ready when the rice is al dente and the dish has the consistency of thick porridge. If you run your spoon through the rice it should flow slowly to fill in the space.
When it reaches this stage add the remaining ingredients: asparagus, peas, parsley, thyme, lemon juice and zest, salt and pepper. Add one final half cup of broth along with two tablespoons of butter and a cup of parmesan cheese. Stir well to combine.
Serve the risotto immediately. As it sits it will start to thicken and lose its creamy texture.