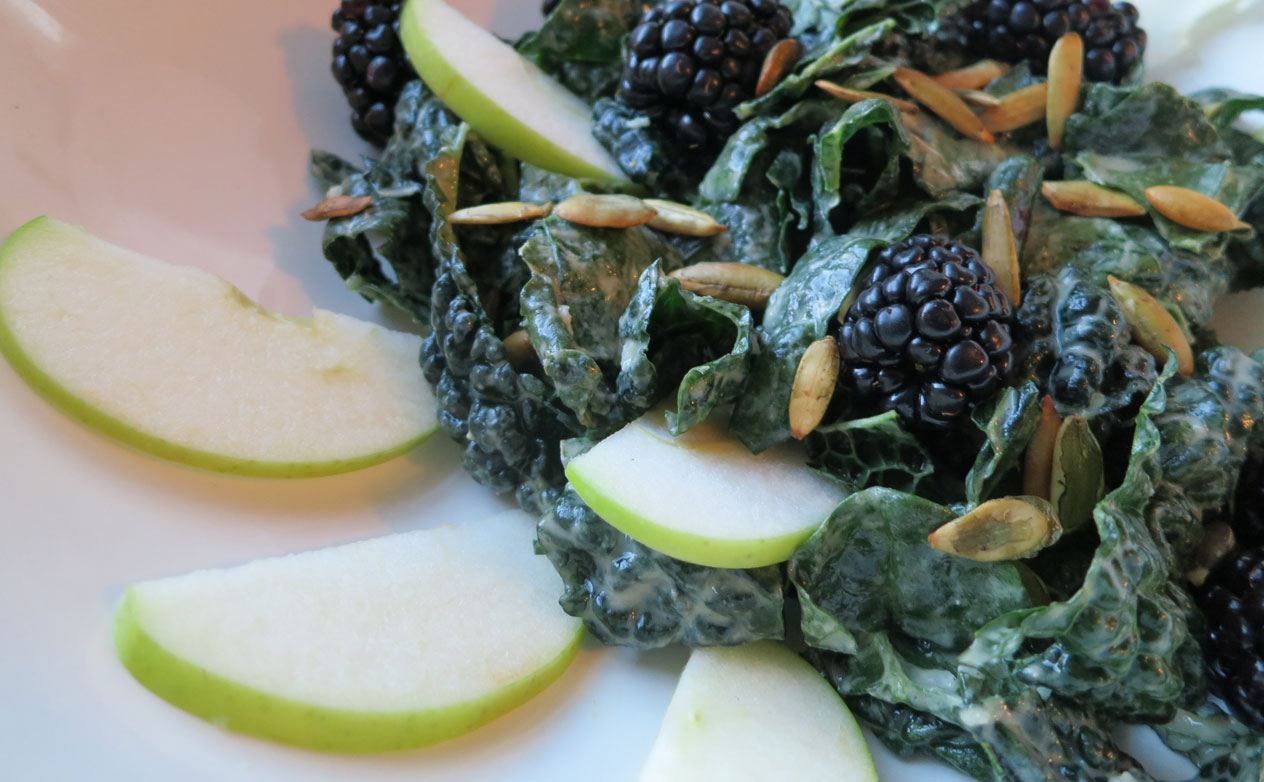 Kale is a super food that's also super delicious. There are many different varieties of kale, but this recipe calls for Italian lacinato kale (also known as Dinosaur/Tuscan kale) which is slightly sweeter and more tender than the standard curly kale.
2 Dinner Salads
Print
Ingredients:
Salad Ingredients:
1 bunch baby Lacinato kale (also known as Dinosaur or Tuscan kale)
1 Granny Smith apple, sliced thinly
1/4 cup toasted pepitas (pumpkin seeds)
1/2 cup black berries
Dressing Ingredients:
2 tablespoons tahini (sesame seed paste)
3 tablespoons olive oil
1 clove garlic, minced and rubbed into a paste
Juice of half a lemon,
1/2 teaspoon kosher salt, divided
1/2 teaspoon freshly ground black pepper
1/2 teaspoon agave nectar (or sugar)
Method:
Salad:
De-stem kale, wash and dry thoroughly (a salad spinner works great for this).
Slice kale into quarter to half inch ribbons and put in a large bowl.
Toss kale with the dressing and refrigerate until ready to serve. Unlike most greens, kale can be kept in the refrigerator dressed for several days and still tastes delicious.
When ready to serve garnish with toasted pumpkin seeds, sliced Granny Smith apples and fresh black berries. If you like a little extra protein grilled chicken breast is an excellent addition.
Dressing:
Mince your garlic (or run through garlic press).
Place garlic on a cutting board and sprinkle with about 1/4 teaspoon of coarse salt.
Using the flat of your knife, rub the garlic into the cutting board until it forms a smooth paste. This step ensures the garlic is distributed evenly throughout your dressing.
Combine the tahini, olive oil, garlic paste, remaining salt, pepper, and agave in a small bowl, whisk well to combine.
Chef's Notes:
It's best to dress your kale salad a few hours before you want to serve it. Keep it in the fridge and add the pumpkin seeds and fruit just prior to serving.
Provided By: Amanda F.