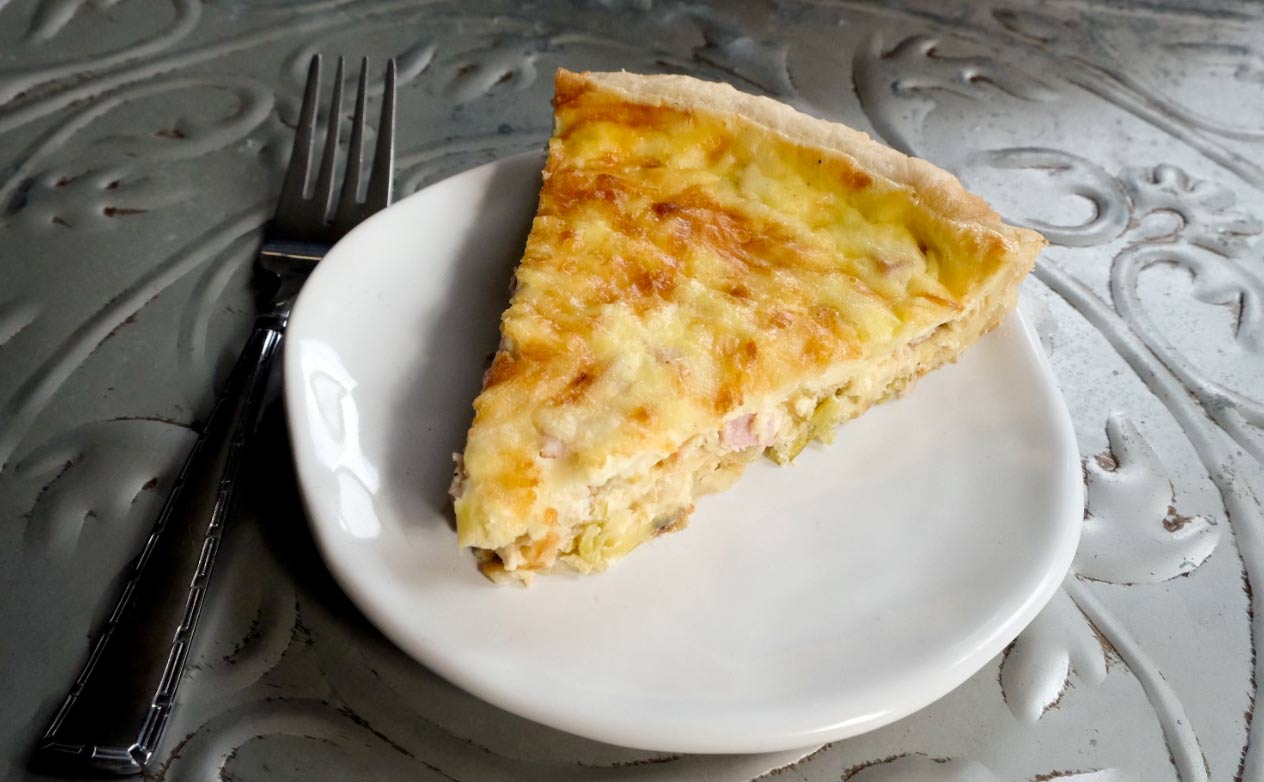 This classic quiche is full of rich flavor. Make sure you thoroughly caramelize your leeks and onions. This will impart a rich flavor to the quiche.
6 Servings
Print
Ingredients:
Pie dough for 9" pie crust (or store bought pie crust)
1 3/4 cups diced leeks, white and light green parts only (from about 2 large leeks)
3/4 cup diced onion
3 teaspoons olive oil
3 eggs
1/2 cup plus 1 tablespoon heavy cream
1 cup plus 2 tablespoons sour cream
Pinch nutmeg (freshly grated is best)
Salt & pepper to taste
1 1/2 cups diced ham (1/4 -inch dice; about 1/2 pound)
3/4 cup grated Gruyere cheese
Method:
Roll out pie dough and fit into a 9" pie plate. Crimp edges and refrigerate pie shell until ready to be filled.
Heat oil in a large pan over low heat. Add the leeks and onions and cook slowly for 30 to 40 minutes until caramelized, occasionally stirring. Remove from heat and cool.
Preheat the oven to 350 degrees.
In a medium bowl mix heavy cream and sour cream. Whisk in the eggs. Add a pinch of nutmeg, and salt and pepper to taste. Mix well.
Remove the pie shell from the refrigerator and spread leek and onion mixture evenly over the bottom. Sprinkle the ham and then the cheese over the leeks and onions. Pour the egg mixture over the top and place in the oven.
Bake until puffed and golden, about 30 - 35 minutes. Remove from the oven and cool slightly on a rack. Quiche can be served warm or at room temperature.
Provided By: Amanda F, GE Recipe Network