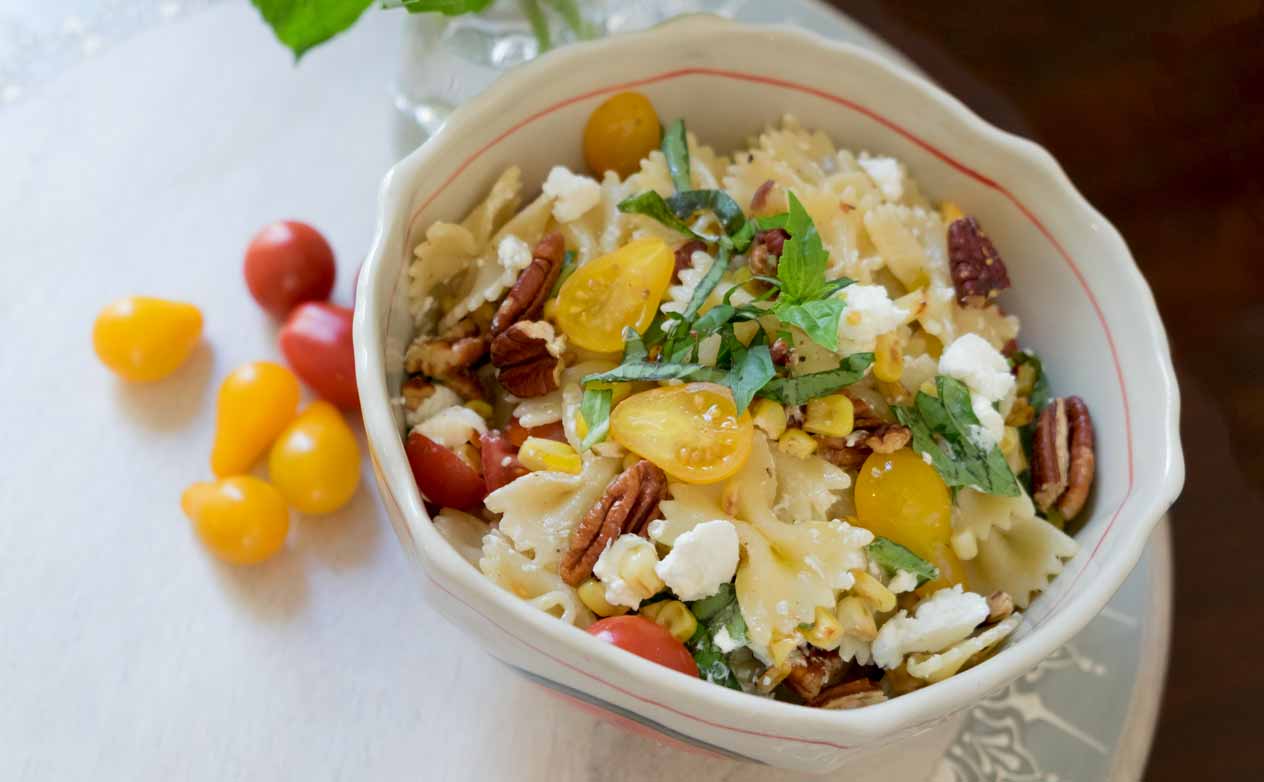 This isn't your grandma's macaroni salad! This delicious pasta salad is bursting with the summer flavors of juicy tomatoes, sweet corn, aromatic basil and creamy goat cheese.
10-12 Servings
Print
Ingredients:
4 ears corn, shucked and kernels cut off
16 ounces cherry tomatoes, quartered
4 cloves garlic, minced
1 cup basil, cut into strips
4-6 ounces goat cheese, crumbled
1 pound bowtie pasta
Juice of 1 lemon
1/4 cup olive oil
1/2 cup pecans, toasted and chopped
Salt and pepper to taste
Method:
Over medium high heat, roast corn in dry nonstick skillet for 5-10 minutes. The corn should get dark brown in spots and smell sweet. Set corn aside when done.
Toast pecans in a preheated 350-degree oven for about 5 minutes or until they are fragrant. Watch them closely as they can burn quickly.
Cook pasta according to package directions in well salted water.
Put the olive oil and garlic in the bottom of a large bowl. Drain your pasta well and add it to the garlic and oil while it is still hot, and toss thoroughly. The hot pasta will cook the garlic and mellow the flavor. Add the tomatoes, corn, pecans, goat cheese and basil and gently toss to distribute throughout the pasta. The goat cheese will melt into the hot pasta creating a creamy sauce. Drizzle with lemon juice and season with salt and pepper to taste.
Chef's Notes:
Pasta salad is best served slightly warm or at room temperature.
To easily cut corn off the cob: Lay down a clean kitchen towel and use a serrated bread knife to cut kernels off the cob.
The kernels will fall on the kitchen towel which you can then easily gather up and transfer to your pan or bowl.
Provided By: Amanda F.