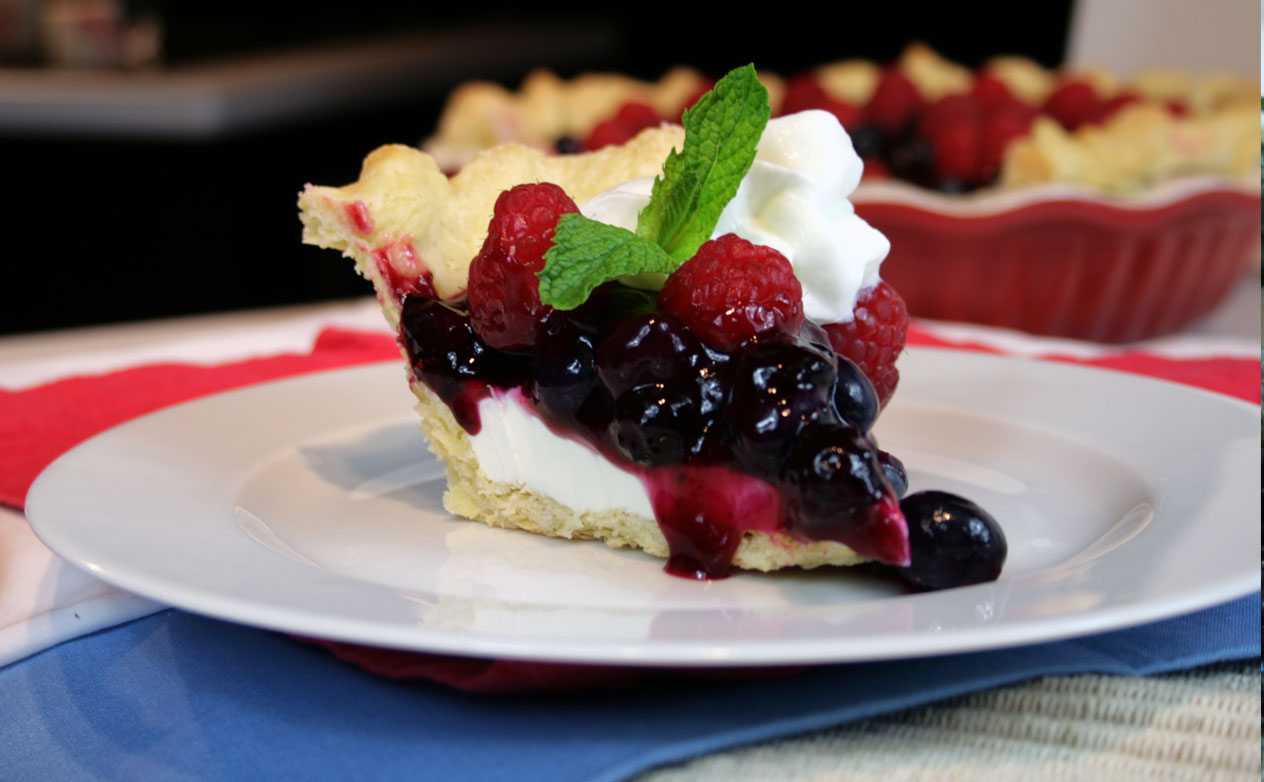 What better way to celebrate Independence Day than with a fresh blueberry and raspberry pie!
6-10 Servings
Print
Ingredients:
4 cups fresh blueberries (divided)
1/2 cup sugar
2 tablespoons cornstarch
6 tablespoons water
1 tablespoon fresh lemon juice
1 cup fresh raspberries
12 ounces of cream cheese (softened)
1/2 cup powdered sugar
1/2 teaspoon vanilla
1 9-inch pie shell (baked and cooled)
Whipped cream
Method:
In a medium saucepan combine 2 cups of the blueberries with the sugar, cornstarch, and water. Bring to a boil, then reduce heat to medium, stirring constantly until thickened (about 2 minutes or so). Remove from heat and stir in the lemon juice. Set aside to cool.
In a medium bowl, stir the softened cream cheese with the powdered sugar and vanilla until well combined. Gently spread cream cheese mixture on the bottom of the cooled pie crust.
Stir 1 1/2 cups of fresh blueberries into cooled berry mixture. Pour on top of the cream cheese mixture. Sprinkle the raspberries over top, then add the remaining 1/2 cup of fresh blueberries. Chill completely-at least 2 hours.
To serve, garnish with dollops of whipped cream.
Chef's Notes:
To pre-bake your pie crust, prick the sides and bottom of an uncooked pie crust with a fork.
Line the crust with a piece of parchment paper and fill with dried beans or lentils.
Bake in a pre-heated 425 degree oven for 10 minutes.
Remove parchment and beans, then return to the oven for 2-3 minutes until golden brown.
Provided By: Amanda F.