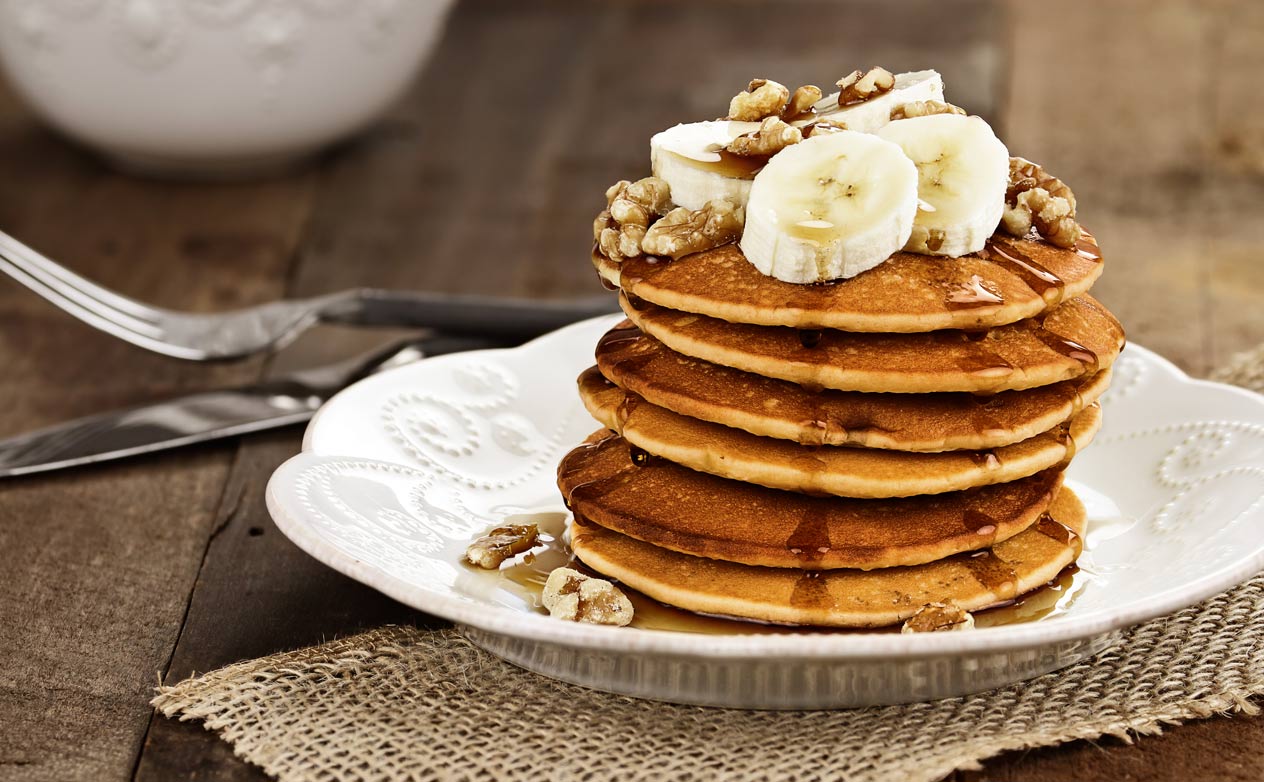 6 Servings
5 Minutes
Print
Ingredients:
For the pancakes:
1 cup all purpose flour
1 cup whole wheat flour
3 tablespoons brown sugar
2 teaspoons baking powder
1 teaspoon baking soda
1 teaspoon ground allspice
1 teaspoon ground cinnamon
1/2 teaspoon ground ginger
1/2 teaspoon salt
1 1/2 cups skim milk
1 cup pumpkin puree
1 egg
2 tablespoons vegetable oil
2 tablespoons vinegar
1/4 cup walnuts, toasted (optional)
For the bananas:
2 bananas peeled and sliced
2 tablespoons brown sugar
1 teaspoon unsalted butter
Method:
In a separate bowl, mix together the milk, pumpkin puree, egg, oil and vinegar. Combine the flour, brown sugar, baking powder, baking soda, allspice, cinnamon, ginger and salt, stir into the pumpkin mixture just enough to combine.
Heat a lightly oiled griddle or frying pan over medium heat. Pour or scoop the batter onto the griddle, using approximately 1/4 cup for each pancake. Brown on both sides. Keep warm in a 200-degree oven while you make the banana topping.
For the banana topping, peel and slice the bananas into 1/4" pieces. Melt the butter in a small frying pan. Add the sugar and bananas. Cook until sugar is dissolved and bananas are warmed through.
Top pancakes with bananas and toasted walnuts. Serve immediately.