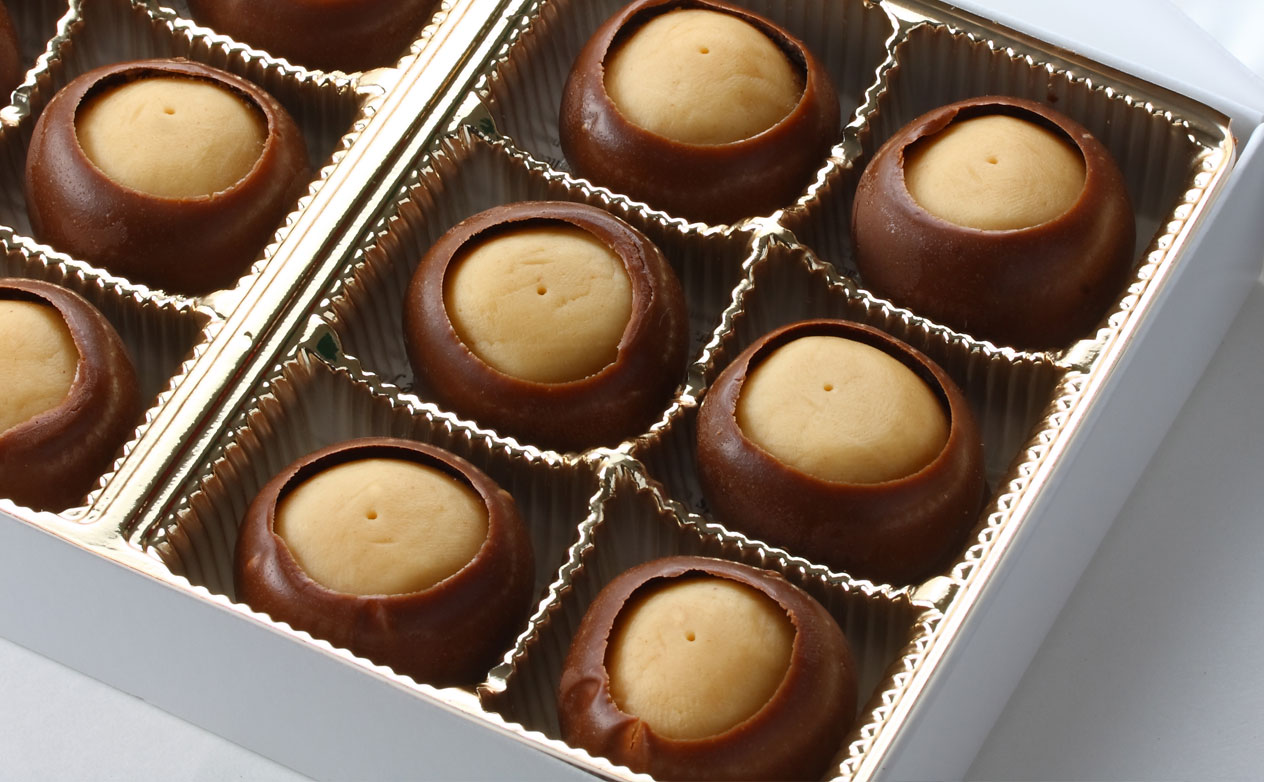 Buckeyes are a classic candy from the Ohio region. They are made of a soft peanut butter center dipped partially in chocolate. The finished candy resembles a Buckeye nut.
5 Dozen Candies
Print
Ingredients:
1 1/2 cups Creamy Peanut Butter
1/2 cup butter, softened
1 teaspoon vanilla extract
1/2 teaspoon salt
3 to 4 cups powdered sugar
2 cups semi-sweet chocolate chips
2 tablespoons Shortening or Coconut Oil
Method:
Mix together peanut butter, butter, vanilla and salt in large bowl with an electric mixer. Blend thoroughly and add 2 cups powdered sugar, beating until blended. Beat in additional powdered sugar until mixture becomes thick. It should hold its shape when rolled into a ball and stay on a toothpick. Shape into 1-inch balls. Refrigerate.
Place chocolate chips and shortening in microwave-safe bowl. Microwave for 30 seconds. Stir. Repeat until mixture is smooth.
Place a toothpick in the chilled peanut butter balls. Dip 3/4 of ball into chocolate, leaving top uncovered to resemble a buckeye. Remove excess. Place on wax paper-lined tray. Remove toothpick. Smooth over the toothpick holes. Refrigerate until firm.
Keep finished buckeyes refrigerated, between sheets of wax paper in an airtight container, for up to 3 weeks. They make great holiday gifts and are perfect for cookie exchanges.