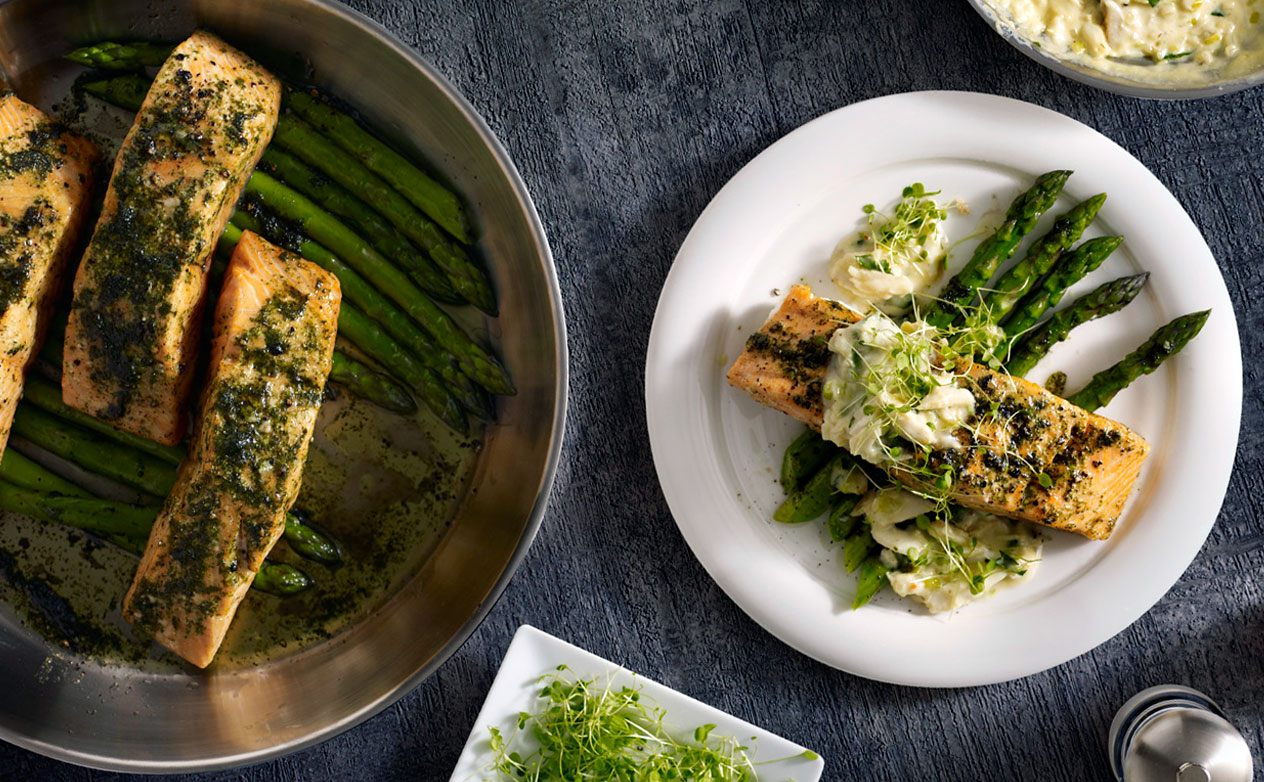 4 Servings
17 Minutes
Print
Ingredients:
4 (7 oz.) fillets of salmon
20 asparagus spears
1/2 lime
Pinch brown sugar
1/8 pound brown sugar
1 cup fresh tarragon
1/4 cup fresh parsley
1/8 cup fresh basil
Pinch salt and pepper
1 cup oil
1/2 pound jumbo lump crab
2 cups cream
1 sweet onion, diced
1/2 cup leeks diced, cleaned
1 large shallot, minced
Pinch chopped parsley
Method:
To prepare marinade, puree all herbs and brown sugar in a food processor. Add oil and season.
Marinate salmon in mixture for one day.
Preheat oven to 400 degrees F.
Blanch asparagus in salted water for one minute, then chill.
In a sauté pan place blanched asparagus, then top with salmon making sure herbs are coating fish.
Place in preheated oven 12 - 16 minutes or until desired temp is reached (8 - 10 minutes for medium-rare).
In a small pan sweat shallots, oso sweet onions and leeks. Add cream. Season with salt and pepper. Add crab and reduce over medium high heat 4 - 6 minutes. Pull from heat, and add parsley.
Remove salmon and asparagus from oven.
Arrange five asparagus on each of four plates, then top with salmon. Evenly portion crab sauce on side of fish.
Garnish with salt and pepper, drizzle of lime juice and a pinch of brown sugar.
Serve and have fun.
Advantium Instructions

Scroll dial to Fish, and select Salmon.

Place on grill plate with asparagus. DO NOT COVER.

Salmon does not need to be turned over.

Wait for time to expire, then remove from Advantium. Let rest for 2 - 3 minutes.

Return to step 7 and continue.