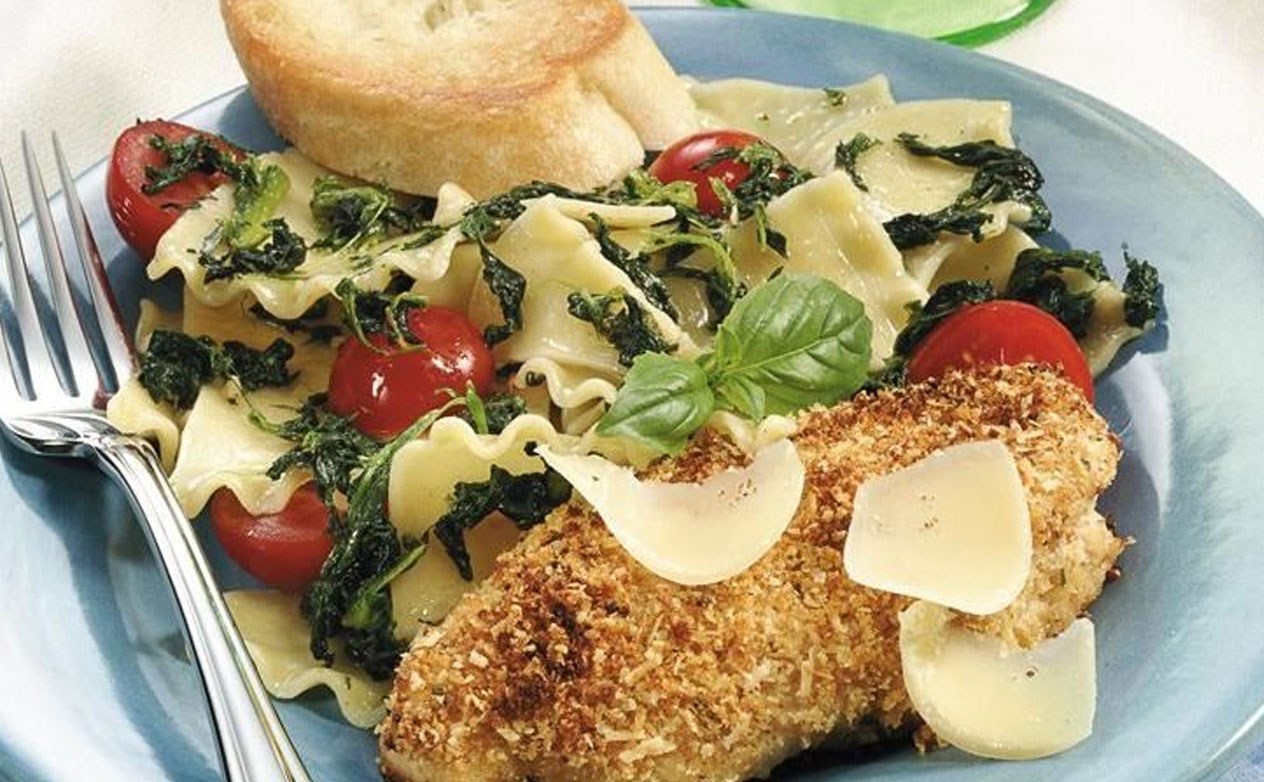 4 Servings
22 Minutes
Print
Ingredients:
3 cloves garlic, finely chopped
1/2 teaspoon seasoned salt
3 tablespoons olive oil
1 tablespoon salted butter
1/2 cup garlic herb bread crumbs
1/2 cup grated fresh Parmesan cheese
1 1/2 lb boneless skinless chicken breasts or thighs
8 oz uncooked lasagna noodles, broken into 2-inch pieces
1/4 cup olive oil
1 clove garlic, finely chopped
1 box (9 oz) frozen spinach, thawed, drained
1/2 teaspoon seasoned salt
1 cup cherry tomatoes, cut in half
2 tablespoons chopped fresh basil leaves
Method:
Heat oven to 475 degrees F. In shallow microwavable bowl, microwave 3 cloves garlic, 1/2 teaspoon seasoned salt, 3 tablespoons oil and the butter uncovered on High about 1 minute or until butter is melted; stir. In another shallow bowl, mix bread crumbs and cheese. Coat chicken with garlic mixture; coat with crumb mixture. Place in ungreased 15x10x1-inch pan.
Bake about 20 minutes or until juice of chicken is clear when center of thickest part is cut. Meanwhile, cook broken noodles as directed on package. Drain; cover to keep warm.
In 12-inch skillet, heat 1/4 cup oil over medium-high heat. Cook and stir 1 clove garlic in oil 1 minute or until tender. Stir in spinach and 1/2 teaspoon seasoned salt. Cook 2 to 3 minutes, stirring frequently, until spinach is cooked. Add noodles, tomatoes and basil; cook 1 to 2 minutes, stirring occasionally, until hot. Serve with chicken. Garnish with fresh basil sprigs and shaved Parmesan cheese, if desired.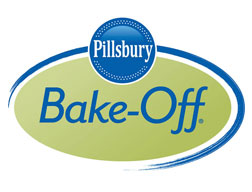 Liz Castle
Tujunga, California
Bake-Off® Contest 39, 2000
Bake-Off is a registered trademark of General Mills ©2007
2007 © and ®/™ of General Mills